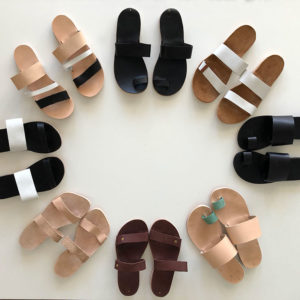 Sandal Making with Stace Fulwiler
Date/Time: Saturday, June 8, 2019
from 10am-4pm, with a break for a potluck lunch
Location: Black Rock Ranch, Stinson Beach CA
(Address provided after registration)
Tuition: $225
Includes everything you need to create your very own pair of handmade sandals.
All tools, leather, patterns, supplies, and materials will be provided.
Maximum students: 9
Learn to make your own leather sandals. More details below.
Registration:
Please read the school policies on our Registration Policies page.
To register, just click the "Add to Cart" button below. When you check out, you may pay online via a secure Paypal payment page. You don't need a PayPal account to pay via PayPal.
$

225.00
Read more