Past Workshops
---
In the summer of 2019, we were thrilled to offer a small series of classes and present the opportunity to engage in a learning environment at the foot of Mount Tamalpais where we have created Black Rock Ranch. We've worked for the past several years to restore good health to the soil and move in harmony with nature to create a peaceful space that honors our place on the mountain. We continue to move towards this vision with the addition of olive, citrus and fruit trees, medicinal and dye plants, heritage chickens and rare breed sheep. A thoughtful and light touch on the land is a guiding tenet as we move further towards regenerative systems and respect for our natural resources. Our values closely align with Fibershed as we work to bring our community here to learn, teach and create awareness about regenerative fiber systems. We are grateful for your support and look forward to sharing space with you on the mountain.
---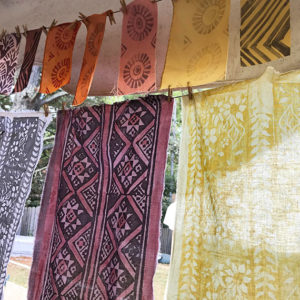 Block Printing with Mordants & Natural Dyes with Kori Hargreaves
Date/Time: Saturday & Sunday, July 13 & 14, 2019
from 10am-4pm, with a break for a potluck lunch
Location: Black Rock Ranch, Stinson Beach CA
(Address provided after registration)
Tuition: $250 (includes all materials needed for the class)
Maximum students: 15
In this 2-day workshop we will explore the possibilities and practice of block printing on textiles to create rich, wash-fast and light-fast designs using natural color. Read more below…
Registration:
Please read the school policies on our Registration Policies page.
To register, just click the "Add to Cart" button below. When you check out, you may pay online via a secure Paypal payment page. You don't need a PayPal account to pay via PayPal.
$

250.00
Read more